Washington Island Wisconsin
Washington Island is about 7 miles northeast off the tip of Door County, Wisconsin. The island can be reached by crossing by Death's Door in Lake Michigan's waters by ferry from Ellison Bay at the Northport Pier.
---
General Info
---
| | |
| --- | --- |
| General: | An island in the middle of Lake Michigan. Head over to Washington Island for the day or spend a week soaking up its unique slow pace of life. Take the Washington Island Ferry from the mainland of Door County to Washington Island. |
| Hours: | Check ferry schedules to see times |
| State: | Wisconsin |
| County: | Door County |
| Google Map Location: | Google Map Location |
| Cost: | The going rate for a ferry ride. |
---
The Winding Road Leads You To The Right Spot
You know you are on the right track and will arrive at the Northport Pier, in Ellison Bay, WI where you travel the famous curvy road.

This road has been photographed in all seasons by tourists and photographers alike.
---
---
The Ferry
The ferry will hold freight, automobiles, motorcycles, bikes, and passengers. It departs daily for a fee. No reservations are needed. Although, expect a wait during busy times.
Check Ferry Schedule

The average time it takes for the ferry ride is 30 minutes.
---
Docking On Washington Island
The ferry drops you off in Detroit Harbor at County Road W on Washington Island.
---
Some Cool Places To Visit
---
Stavkirke Church
The Stavkirke Church is located on Townline Road and is a place for spiritual meditation and worship. It is both a replica and a tribute to Washington Island's Scandinavian heritage.

The church was built in 1991 and modeled after a stave in Borgun, Norway. The funds were raised by Trinity Evangelical Lutheran church.
It is patterned after an ancient church of Norway from medieval times. You can see the Viking shipbuilding's influence in the interior and exterior architecture.
---
Beautiful Scandinavian Architecture
There are four dragons on the front and rear roofs of the church which were designed from a Stavkirke book. There is a prayer path to stroll along and sit and reflect. This is a lovely example of Scandinavian architecture.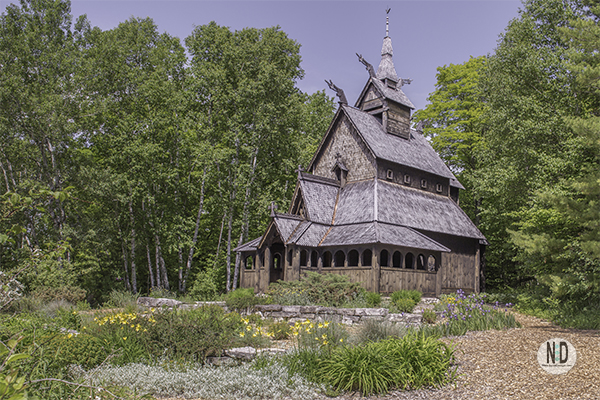 ---
The name derives from the buildings' structure of post and lintel construction, a type of timber framing where the load-bearing ore-pine posts are called stave in Old Norse (stav in modern Norwegian). Two related church building types also named for their structural elements, the post-church and palisade church, are often also called stave churches.
---
Schoolhouse Beach
Stop off at Schoolhouse beach to see one of only five similar sand-less beaches worldwide. The rocks of this beach have been glacier polished and you will get a fine if you cart them off, so don't.

Bring some water shoes and take a dip in the crystal clear water, Be sure to add snorkel gear to your list and visit the 1897 shipwreck, the Louisiana, on the east side of the harbor
Image available on cards to canvas
---
Jackson Harbor
Jackson Harbor is home to the Karfi that travels to Rock Island, WI, Jackson Harbor Maritime Museum, and Jackson Harbor Ridges State Natural Area.
---
Additional Places On The Island To Explore

1.) Jacobsen Museum A small museum with interesting artifacts from and about the island. You can also find history about shipwrecks, Native American artifacts, and Danish scrollwork. The museum cost is a free-will donation

2.) Washington Island Farm Museum Farming artifacts and buildings with household artifacts. Feeding the goats was fun! Self-guided with a suggested $1 donation per person.

3.) Lavender Farm Maybe you will be there to see the lavender in full bloom. The fields are very pretty. If not check out the gift shop at Fragrant Isle Lavender Farm & Shop from soap to chocolate it's everything lavender.
---
---