Thrifty Finds for the Garden
I love using items that I can reuse in the garden as planters.
Oversized Funnel
The bold red pansies against the oversized, galvanized Metal farm funnel look terrific. Bury the funnel halfway in the dirt and plant your garden flowers. Simple, easy, and elegant.
---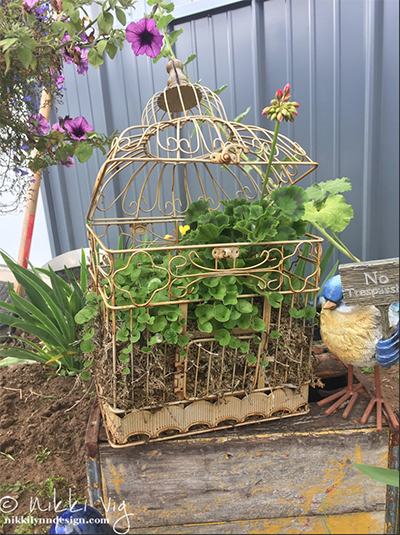 Birdcage
This birdcage is amazing. Plant your overwintered geraniums in early spring and by midsummer, the entire birdcage is flowing with greens and flowers.
---
Roasting Pan
A roasting pan found from a tag sale makes the most interesting planting container. The lid placed behind the pan makes the greens pop.
---
Old Birdhouse
Repurpose an old birdhouse with low growing annuals and greens. Believe me, they look terrific.
---
Produce Basket
An old metal produce basket with handles holds a variety of plants. You can plant a greater variety of flowers and vines.
---
Wash Tub & Washboard
Wash day? Nah, planting day. The old washboard adds to the visual interest.

Yellow daisies, trailing vines, coleus, and brightly colored pansies. This space has light shade and all the plants are tolerant of shade. If you plant coleus, remember they make excellent and hearty houseplants if you need to take them in for winter.
---