Mayapple
The mayapple plant's scientific name is Podophyllum peltatum and is part of my running Wisconsin wildflower collection. The mayapple wildflower in Wisconsin was found on one of my walks through the Wisconsin woodland areas.
General Information
The mayapple wildflower in Wisconsin isn't an impressively showy plant. Unless you count the leaf size, which can grow up to 16 inches across and for its vast clumping of the plant and abilities to carpet an entire forest floor.
The plant belongs to the Barberry Family (Berberidaceae), a small family of shrubs or herbs, divided into five genera of one or two species each. The species is quite common in rich woods, or in shady, moist ground, flowering in May.
Parts of The Mayapple
---
Foliage
The bare stalk rises to heights of 10 to 12 inches, then branches into two long-stemmed, light green, large, spreading leaves; the latter are five to nine-parted, lobed, notched, and unevenly balanced.
---
Flower
From the forked joint of the leaves hangs a solitary white flower on a short, slender, curving peduncle; this is very delicate, nearly two inches across, and of six waxy petals and twice as many stamens.

Blossom of the Mayapple yields no nectar.

Other non-flowering stalks bear at the summits, single, large, one-sided, divided heart-shaped eaves.
Fruit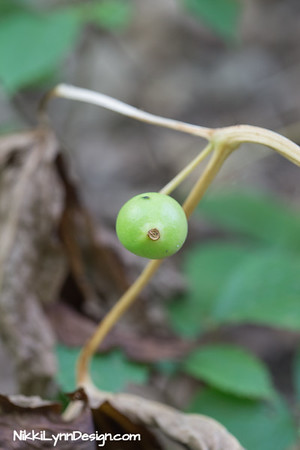 The fruit is large and lemon-shaped, yellow in color, ripening in July. It is the fruit that gives it the name of May Apple.

It is also known as 'Wild Lemon' quite an appropriate name if the fruit alone is considered.

While the leaves and stem are poisonous, the fruit is not but has a peculiar sickish flavor
---
Growing Mayapple
Mayapple plants are an excellent choice for planting in shady areas like under pines, spruce and cedar trees.
| | |
| --- | --- |
| USDA Zones: | 4-8 |
| Started From: | Seed or Bare Root |
| Life Cycle: | Perennial |
| Sun: | Partial Shade, Full Shade |
| Soil Moisture: | Medium, Medium-Dry |
| Plant Spacing: | 18-24″ |
---
Sharing Is Caring. Pin Me.
---
---
Additional Posts
---