Scarecrow Ideas For Fall
A collection of outdoor scarecrow ideas from my private photography files The scarecrow ideas for the fall collection is finally making it's way out of the darkness and into the light. Just in time for fall decorating.
All Worked Up
One of my favorite things about scarecrows is they represent fall, and not Halloween. Scarecrow ideas for fall can take you from September right into November.

Excellent for people like me that have time commitment issues.
---
Such A Happy Guy
A burlap scarercow with a happy toothy grin.

The burlap vest and floppy hat complete the look.
---
With A Corncob Pipe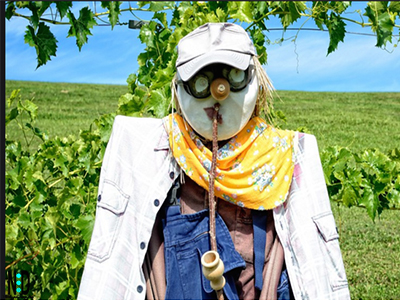 A scarecrow sitting out in a garden smoking his extra-long corncob pipe.
---
Miss Daisy
The plastic flower eyes and pink wig make her adorable.
---
Minion Love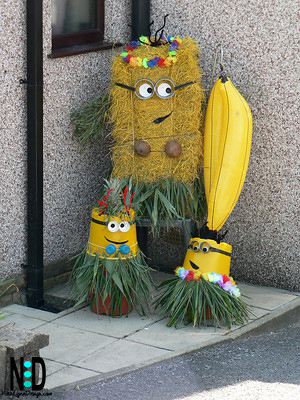 A group of minions can dress up your fall porch. Grass skirts cover clay flower pots and buckets painted like minion faces.
---
Paul's Pumpkin Patch
Guardian over the pumpkin patch. Isn't that sign cute?
---
Coffee Break
Waiting on fall colors. Taking a little time out enjoying pumpkin-flavored coffee.
---
Simpson
This guy reminds me of one of the characters on The Simpsons.
---
Full Moon
I just had to pull over and photograph this guy. I'd be the person to have this guy in my yard just to be a smile on a person's face driving by.
---
---