10 Flowers Deer Do Not Eat
Can't beat them? Join them. Look for flowers deer do not eat. I cannot promise that they will leave every plant standing but, in general, the list below is what deer do not tend to eat. The plants are deer resistant not deer-proof.
Daffodil
Nothing says spring quite like daffodils. The yellow pops of color are a welcome addition to any yard. Most varieties bloom in March and May.
Simple to grow perennial
Deer, Rabbit, and Squirrel Resistant
Prefers Sun/Partial Shade
---
Foxglove
Foxglove is a tall flowering plant that has tubular flowers. The plant does well in moist, shady to partial sunny conditions.
Biennial; Grows 47 – 60 Inches
Grows well in moist, shady locations
USDA Zones 4-9
---
Poppies
Poppies are the most beautiful, exotic, stunning flowers, and they're extremely easy to grow.

Poppies are self-sowing plants. In the late summer and early fall bulb, seed heads appear and when the seeds are ripe the bulb seed pods will crack open and disperse the seed.

Additional Post: Growing Poppies
---
Lily of the Valley
Lush green leaves and sweet-smelling white bell-shaped flowers that hang their head as if they are nodding off.
Fragrant spring blooms
Prefers Full Shade/Partial Shade
---
Bearded Irises
A stunning addition to any garden. Irises come in a variety of show-stopping colors and heights.
Some varieties bloom in both Spring & Fall
Easy to Grow; Deer & Drought Resistant.
Prefers Full Sun & Well-Drained Soil
---
Bee Balm
If it is not in your flower garden it should be. The flowers attract beneficial butterflies, bees, and hummingbirds.
Perennial; Grows 36-48 Inches
Prefers full sun exposure
---
Zinnia
Zinnia is the perfect choice for those that enjoy cut flowers. The beautiful blooms are magnificent summer through fall.
Annual; Grows 18-24 Inches
Easy to grow; Summer blooming
Prefers full sun exposure
---
French Marigolds
An early variety of annual marigold that makes a great companion to planting in herb and vegetable gardens. The flowers also are wonderful in borders and containers.

Grows up to 12 Inches Tall
Prefers Full Sun Exposure
Additional Post: Don't forget to save your flower head seeds
---
Peonies
Create stunning rows, hedges, and additions to your flower garden in red, pink, and white blooms!
Perennial; Varied Styles and Heights
Late Spring to Mid Summer Blooming, Easy to Grow
Prefers Full Sun
---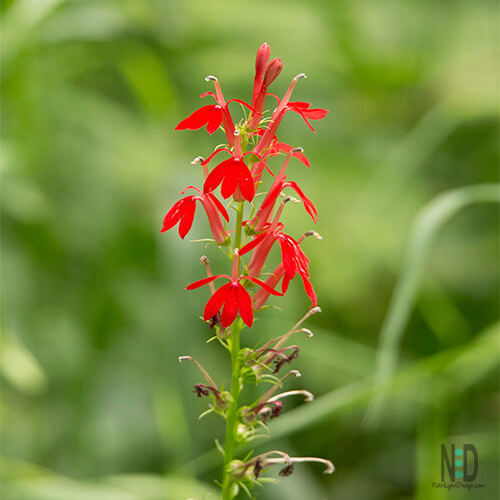 Cardinal Flower
The cardinal flower consists of many bright red tubular flowers. The tubular flowers are arranged in an elongated cluster.

Cardinal flowers make excellent garden flowers, the flowers attract hummingbirds, bees, and butterflies.

Additional Post:
The Cardinal Flower
---
If you have trouble with deer eating your other plantings you can try this organic deer plant repellent recipe. Good luck and happy gardening.
Pin Me For Later
---
Additional Posts
---