White Star Psychic Church Brussels Wisconsin
Today's topic is going to be a little different.  Something I normally wouldn't write about, nor would I endorse.  And, SOME may even call me a little crazy for exploring; The White Star Psychic Church Brussels Wisconsin. But life is about experiences. Sometimes, walking in someone else's shoes helps to understand and relate to someone else. We need this in life.  Who knows, you may even gain knowledge, understanding, peace and even comfort in an unlikely place.  Like this church has done for me.
The White Star Psychic Church, Brussels, Wisconsin History
I loved the history behind this church.  In the 1880's John B Evearts wife fell ill.  Traditional doctors gave her no hope. John brought his wife to a spiritualist medium, who healed his wife.  The medium told John, he to had the gift and needed to practice it.  John quit his job, sold his business and built The White Star Church in 1888.
The church still stands today and does have a following in the area.  It is the last remaining spiritualist church in Northeast Wisconsin and one of the few remaining in Wisconsin.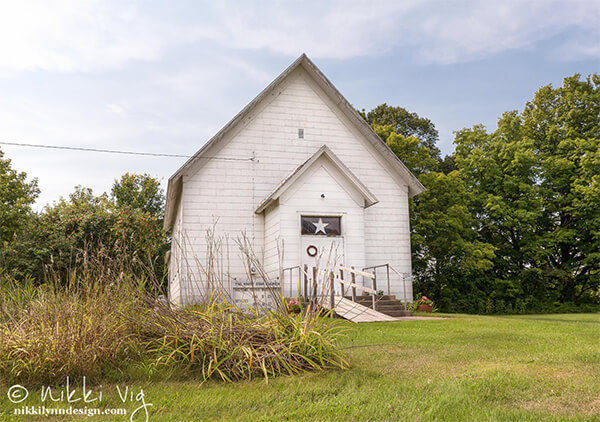 The White Star Psychic Church Location
The church is located on County C in Brussels, Wisconsin.  Between Green Bay and Sturgeon Bay.
Why Did I Visit?
I was hired last summer to photograph the church to be included on the church listing for the Southern Door County website. After photographing the church I wanted to know more about it.  I'm a pretty curious person by nature.  The church intrigued me after reading about the history.  Plus, my great grandfather paid a visit to this church years ago and the only information I was told was "The Lady there knows things."
After we photographed the church during the day.  We decided that we needed to pay a visit at night too.
A star filled night made for the perfect backdrop.  The Milky Way is peeking out from behind the church.
After paying a few visits to the outside of the church, we decided that we were going to try and make a service.
Service Hours and Parking
On September 11, 2016 we left home and traveled to the White Star Church. During the summer and fall months the church has two services a month. They have a Facebook page for the dates.
When we arrived, we were not 100% sure where to park.  There is not a paved driveway or parking lot on the property.  Thankfully, there were two additional cars waiting for the church doors to open and they were both parked on the grass.
We pulled up onto the grass but there were large stones below the surface of the grass in places.  At first, fear struck me.  The fear was almost as if I was running over grave markers.  After we got out, I looked and this was not the case. Either it was an old stone walkway or driveway that the grass had grown over. It did put some fear in me when driving in and I was relieved that my first thought ring hold true.
Church was to start at 10:30 and we were about 10 minutes early so we waited outside the church doors for someone to let us in.
First Impressions
When the church doors opened we entered a small entryway.  The entryway was filled with books and then had a screen door to enter the church.  We opened the screen door and entered the church. I felt a rush of cold air. Our outdoor temps were much more humid.  Indoors, there wasn't any air conditioning running but the temperature was at least 30 degrees cooler. I found it strange.
In the back section of the church there was a gift shop area.  The gift shop has books, jems and misc items that you can purchase.  After passing the gift shop area there are three sections of wooden pews that faced the altar. The left and right of the pews, were set against windows.  All the windows of the church were lined with white lace. There was an old piano in front of the right section of pews and a small wooden door leading to somewhere.
The altar was raised off the floor and had a backdrop of royal purple, satin material surrounding it. The speaker (I'm not sure what she calls herself, sorry) took to the altar while a CD player played music.  The speaker was a lady in her early 60's.  She had long, white hair and had a pleasant speaking voice.
Service
The service started off by singing a hymn and then went into guided meditation with soft music playing in the background.  We surrounding our loved ones, the earth, the church and everyone with "Angel balls" of light and did a lot of breathing in and out. I'm not one to meditate, the practice was hard for me to start with.  In the early part of meditation, I had my eyes open looking around the room.

I Wanted to See If Everyone Else's Eyes Were Closed
During our guided meditation, messages were supposed to come to us. Since, I was peeking and not doing what I was told, I have to say I wasn't very convinced this was going to work.   For the second part, I didn't "get" a message when everyone was told to search above the door frame to find their message and many additional things that we were guided to see.

When You Hear a Guys Voice in a Quiet Church
However, strange things happened when I really tried on the second go around.  I DID see a male angel and a female counterpart. Plus, a color on one of the exercises.  It wasn't so much the seeing part that connected with me.  I heard Michael speak in my head, felt him and I received a strong and powerful message.
Who Came To You and What Color Did You See
After what seemed like an hour and a half, guided meditation was over.  Then we switched over to the topic of the day which was "Archangels." The topic was where everything we had seen during guided meditation would be put into place. Knowing which angel came to you and the color of the light that you saw played into the sermon.
At least I was able to follow along with the sermon because I wanted to know why Archangel Michael and Faith came to me.  The message I clearly received through meditation was clear and a needed one for me to move forward in my life.

I Knew the Male but Not the Female
My mental reasoning was telling me Michael is one of the only angels mentioned several times in the Bible. Chances are, if you connect with any part of the Bible and have read about Michael, you might see him.  But it was the light, message and female counterpart that was the interesting part that was explained.  It was a pretty heavenly experience if you will.
The bright white light and message brought tears to my eyes. The message was something I needed to hear. The only way I can describe the experience –  is either my mind and body were connected on a higher plane or something on another plane of existence entered my mind.
What Michael Represents
Michael is Earth's representative of the all-encompassing strength of the Divine.  Michael lends you support, courage, and confidence. He'll boost your resolve to make healthy changes, as well as guide you to new opportunities and help you heal from past experiences.
In Muslim lore, he is the angel of nature who provides both food and knowledge to man.
Michael, might have been touching many parts of my life in the past years…a connection?  Yes, most certainly could be. Or, so the sermon told me so.
Closing Psychic Reading
We had reached the end of the sermon.  I thought that had concluded the activities.  I was wrong.  The speaker asked my name in front of everyone.  She bowed her head down for a minute and then gave me what is called a reading.
She saw me in past lives.  I have a love for nature, animals and water. (no surprise)  Islands too. (no surprise)  I was wearing a robe.  Easter Island popped into her head. (no clue) The stone people have a connection to me and if I touched the rock on the island I would feel a strong connection to the Earth and nature. (Besides three people, nobody else knows – I sit on a rock pile in the middle of a country farm field and my rock island does have a replica of one of the Easter Island stone heads. Never shared a picture or this information before.  I photograph much of my Door County Wildlife in this farm field location.)
I was a Druid in a past life.  I also have a strong past life and connection to Ireland. (My favorite holiday in St Pats Day. I want to visit Ireland and stay in a castle, I have dreamed about it.  Both of my children have Irish names for a reason and Ireland doesn't have SNAKES!)
At some point in my life, I have or will have a strong will to help save wildlife and clean up waterways. (That is a given)  That was what she saw from my reading.
She did complete additional member readings in our closing.  After the service, she invited everyone for a potluck lunch.  We didn't attend the lunch because we had prior engagements.
What Did I Learn?
If you are still with me, you have the slight feeling I was/am skeptical of the White Star Psychic Church Brussels Wisconsin.  Yes, in my life I have experienced strange things that I can't explain.  This experience was no different.
I Have Peace Moving Forward
The meditation experience and message that I received put the anxiety I have felt about a choice I made 11 years ago to rest.  I have peace with my decision moving forward. I have made the right choices and shouldn't feel regret.  

What WAS My Message
A portion of the message Michael and Faith delivered was, "You have chosen the correct path.  Have no regrets. Each party involved deserves to grow and move forward.  Peace and forgiveness are powerful. Forgiveness doesn't just entail being merciful to others but, it also includes being merciful unto yourself."
The additional details – I choose to leave out of this posting.  They did fit with an 11-year-old battle I have been dealing with inside my head.  If I made the correct choice (following my head) or should have gone with my heart.  Again, mind on another plane. If that is the message that I was to receive.  I received it.
Overall, the visit was agreeable. The visit has at least put my mind at ease with something I struggled with a little more than I would have ever admitted out loud before today. Years ago my head won out over my heart.  My heart has hurt ever since. My choice has haunted me from that day forward.  My visit here gave my heart some much-needed peace. To move forward and start healing.
For that experience alone – it was worth the visit.
Disclaimer: This site is provided for entertainment purposes and to display my work only. If you venture to any of the photography locations I list on this site you are doing so of your own free will.  In making that choice – you have taken personal responsibility for any outcome. Emotionally, physically and monetary wise.