Wisconsin Wildflowers or Invasives
Wisconsin wildflowers or invasives. Most of the photographs were taken while on walks along paths and through the woods. Well, at least I tell everyone I'm going for a walk. Really, I'm just exploring my options for photographing. Shhh! Don't tell.
---
Wisconsin Wildflowers or Invasives
Listing of Wisconsin wildflowers or invasive woodland, meadow and forest plants. Plus a variety of trees, bushes and vines.

There are a few plants that many believe to be wildflowers, including me at one point- that is why they are on this page.
---
White Wildflowers, Weeds & Invasives
You can find these white beauties blooming through the snow during the early spring in Wisconsin. They are escapees from gardens.
White campion is a weed and not a wildflower. It grows in most open habitats, particularly wasteland and fields, most commonly on neutral to alkaline soils.
The mayapple wildflower is native to WI and isn't an impressively showy plant.
Unless you count the leaf size, which can grow up to 16 inches across and for its vast clumping of the plant and abilities to carpet an entire forest floor.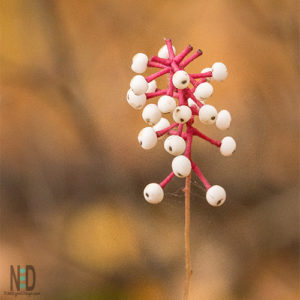 White baneberry doll's eyes begin its life with fuzzy white flowers on a green stem and later develop white berries with a black dot in the middle.
---
Pink, Purple, & Blue Wildflowers Weeds & Invasives
The three-petaled spiderwort native wildflowers are usually blue to a variety of purples, but may also be pink, white or red.

The flowers only remain open for a day, They bloom during the morning hours and close for the night.
The endangered Dwarf Lake Iris is a native miniature iris that grows nowhere else in the world but in the Great Lakes Region. It is especially concentrated along certain stretches of the Great Lakes shoreline.
Bittersweet Nightshade is an introduced weedy flower. This dainty flower is easily identified by its five dark to mid-purple flowers with a pointed yellow center and sits on a weak vine.
This variety of crocus is another garden escapee and can be found peeking out of the snow in early spring found in meadow.s and bordering forest areas The spice saffron is obtained from the stigmas of a type called Crocus sativus, an autumn-blooming species.
Blooms April into early May.
Gets its name from it's spotted pattern on the leaves which look a lot like the pattern on a Trout.
Some people also call the flower a Dogtooth Violet, I always giggle because it is not a violet at all, it is a lily.
The flower comes in cream, yellow, pink and mauve.
This purple Gaywing wildflower is often mistaken for an orchid. It goes by the names of Fringed Polygala, Gaywings or Flowering Wintergreen.
The forget me not wildflower is a perennial wildflower that is most often found in woodland gardens, along creek beds or in wetland areas with rich soil. They will tolerate sun and shade but like damp soil.
Comes in pink, peachy colors and reds. Columbine grows to a height of 1-2 feet in the partial shade and in areas of filtered sun. Tiny, black seeds ripen at various times within the flower's life cycle.
Invasive Cow vetch is widely used as a forage crop for cattle and is beneficial to other plants because, like other leguminous plants, it enriches the soil in which it grows by its nitrogen-fixing properties. Although, it is considered an invasive plant in many areas.
Chicory is known for its electric blue flowers, creating a spectacular summer show along roadsides, ditches, and fields.
It is not a native wildflower to the United States and has the potential to become invasive in areas, but under managed care, it is popular for deer plots and food cultivation.
This native thistle is so rare that it is listed both by the State of Wisconsin and by the federal government as "threatened." Its habitat, the Great Lakes dunes that are also threatened.
A common woodland plant that produces purple-spotted and striped leaves in the spring (April–May).
Early Meadow rue is generally found in places that have not been disturbed by human interaction.
The native flowers are bell-shaped and produce yellow hanging flowers.
The hitchhiking pest, Arctium minus or as it is more commonly known,"burdock." Did you know it is a wildflower?
---
Orange & Red, Wildflowers Weeds & Invasives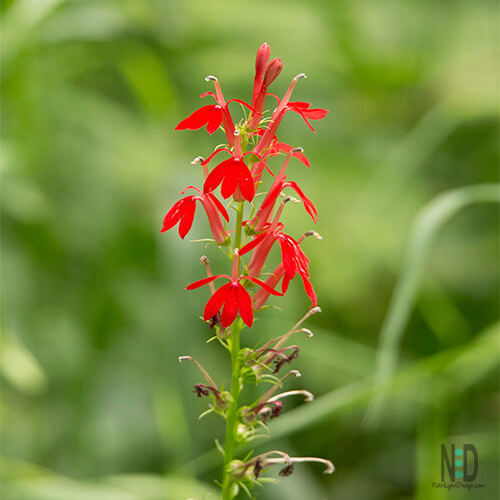 The cardinal wildflower is a native Wisconsin perennial. It consists of many bright red tubular flowers. The tubular flowers are arranged in an elongated cluster.
---
Yellow Wildflowers, Weeds, & Invasives
The Downy Yellow Violet is found in woodland areas during the months of April and May in Wisconsin. They like rich, dry soil.
Yellow flag iris is a showy perennial plant that can grow in a range of conditions from drier upland sites, to wetlands, to floating aquatic mats.
The yellow bell wildflower is one of the first wildflowers to bloom in the spring. As soon as the snow melts, they pop up. The blooms do not last long.
Marsh Marigold

The marsh marigold is one of the earliest wetland plants to bloom after the winter snow has melted with it's beautiful, yellow blooms that herald spring is here.
---
Trees, Bushes & Vines
Showy bush honeysuckle are easy botanicals to pick out in the spring landscape of Wisconsin because they are green and most likely, flowering before additional trees and plants because they are not native to the area.
Referenced as wild blackcap brambles, wild black raspberry, black caps, black cap raspberry, thimbleberry, and Scotch cap.
Scientific Name: Rubus occidentalis

Deciduous shrub growing to 2–3 m (7–10 feet) tall, with prickly shoots and sweet black berries.

---
Midwest Wildflower Mix
Super easy way to fill in a large garden area with wildflowers.

60% Annual, 40% Perennial Species; 100% Pure Seed, No Fillers

A classic and easy to grow wildflower mix!

Prefers full sun exposure; Specially Formulated for Midwestern States
Row 1: Red Corn Poppy (a), Shirley Poppy (a), CA Poppy (a), Wallflower (b), Drummond Phlox (a).

Row 2: Blanket Flower, Russel Lupine (p), Wild Perennial Lupine (p), Mexican Hat (p), Indian Blanket (a).

Row 3: Gloriosa Daisy (p), Sweet William (b), Red Flax (a), Blue Flax (a), Plains Coreopsis (a).

Row 4: Tall Cornflower (a), Sulphur Cosmos (a), Sensation Cosmos (a), Lance-Leaf Coreopsis (a), Dwarf Cornflower (a).

Row 5: Baby's Breath (a), Black Eyed Susan (b), Candytuft (a), Coneflower (p), Prairie Coneflower (p).
(a) = Annual (b)= Biennials (p)= Perennials