Below are insects of Wisconsin that can be found while walking trails, working in the garden and flower beds, or they just wandered right into your paths.
Insects of Wisconsin & Beyond
---
A running list of all that insects that have been found in Wisconsin. It may not look like much now; but eventually, it can be used as a go to guide to help you ID some of the insects you may come across.
---
Caterpillars, Worms & Grubs
Many people are familiar with the multi-striped Monarch caterpillar that feeds on milkweed, but did you ever see the Milkweed Tussock Moth Caterpillar? They also feed on milkweed and are lesser known species of caterpillars.
Caterpillars grow up to become Milkweed Tussock Moths.
The caterpillar is generally found during the autumn months and doesn't sting or bite when picked up. However, the little bristle hairs can get under your skin and cause irritation. Turns into the Isabella Tiger Moth.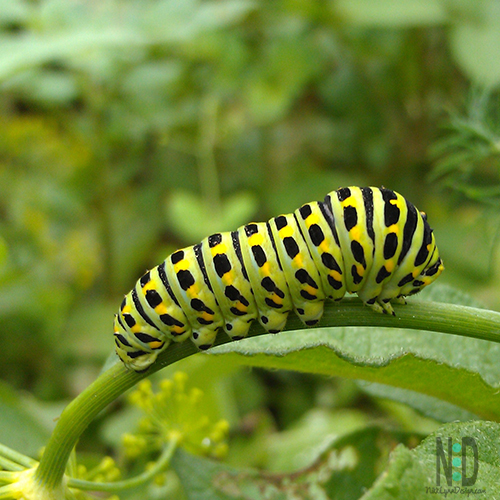 Eastern Black Swallowtail Caterpillar
Young Eastern Tiger Swallowtail caterpillars are brown and white; older ones are green with two black, yellow, and blue eyespots on the thorax. The caterpillar will turn into Black Swallowtail Butterfly
White-lined Sphinx Moth Caterpillar (Hyles lineata)
He may not look like much now, but he grows up to be the white lined sphinx moth which most people mistake for a hummingbird.
This caterpillar creates holes everywhere. It loves enjoy: broccoli, cabbage, cauliflower, kale, collards, turnips, cabbage, radish & horseradish.
The pest bores into the interior of the cabbage and other plants feeding on new sprouts.
Many people mistake the cabbage white caterpillars for cabbage loopers.

A white grub looking worm with a brown head. The white grubs hatch and tunnel in the ground and eat the roots of your plants.
If you have weak stems, chewed leaves and marks on your fruit, you should start looking for the grubs of the corn rootworm or the cucumber beetles they become.
---
Moths & Skippers
As an adult moth I will go and lay my eggs on milkweed plants, just as the monarch does.

My baby milkweed tussock moth caterpillars will eat their fill.
As a youngin' I was the banded woolly bear caterpillar, Today I am a beautiful moth ready to start the lifecycle all over.
Crambus patella aka snout moth. These are the moths you might see flying around your yard at times if you take a walk through during July and August. If you do, you may wish to treat your lawn with sod webworm granulating formulas before you start seeing dead patches. The moths are harmless but lay eggs that hatch into worms that eat the roots of your grass.

Often mistaken for a hummingbird because of its size and flight patterns.
It is a beautiful dark brown hawk moth with a tan, white and pink coloring. Found throughout Central and North America.
---
Butterflies
Male Black Swallowtail Butterfly
The butterfly commonly feeds on many different members of the parsley family, including parsley, carrots, dill, and parsnip. It may also feed on Common Meadow Rue.
Life Cycle of Monarch Butterflies
Monarch butterflies go through four stages during one life cycle, and through four generations in one year. It's a little confusing but let me walk you through the process.
The cabbage white butterfly is a white or creamy white butterfly but can have slightly pale yellow coloring too.
The butterfly itself is not harmful to crops. But, the caterpillars can wreak havoc on your cabbage and mustard family crops. The butterfly lays the eggs on your plants. The caterpillars eat your leaves and can bore inside.
Female Black Swallowtail Butterfly
The female black swallowtail to me appears to be a lighter color black than the males. It isn't as vivid. The female doesn't have the first row of yellow markings on the wings as the male does.
The mourning cloak butterfly is one of the first butterflies to be seen in spring. The butterfly is a reddish- brown winged butterfly with jagged banded outer wings in yellow with bright blue dots
Gulf Fritillary
The Gulf Fritillary butterfly or passion butterfly  is a bright orange butterfly with black ribbing and white spots. The butterflies release odorous chemicals in response to predator sightings.
---
Beetles
One of many beetles in the blister beetle family. The beetle is part of the Meloidae family, they are called blister beetles for a good reason. Touching any variety of them will cause blisters on your body.
Goldenrod Soldier Beetle
One of the most common species of soldier species of Goldenrod soldier beetle in the Midwest. The beetle is also well known by the name Pennsylvania leatherwing and by its scientific name of Chauliognathus pennsylvanicus.
You will most often find the beetles during the months of July through September on goldenrod flowers. They also enjoy milkweed, rattlesnake master, Queen Anne's lace and additional meadow flowering plants that produce pollen and nectar that they feed on.
They beetles do not cause harm to flower beds, gardens and crop plants and will not bite or sting humans or pets.
Stink Bug
There are many varieties of stink bugs. Most are an olive green and black, although some are brightly colored but all are shield shaped insects.
They get their name because if you crush them they give off a strong scent. That order odor is a chemical that they produce in glands on their abdomen.
Milkweed Bug
Milkweed bugs are Lygaeidae which are part of the family in the Hemiptera with more than 110 speciies in 4 subfamilies.  Many of the species feed on seeds, although some feed on sap 
Colorado Potato Beetle
The Colorado Potato Beetle is a major pest of plants in the nightshade family.
Including potato crops, eggplants, peppers, and tomatoes. The beetle has and bright yellow and sometimes tinted orange body along with bold, dark brown stripes that almost look black to the eye that run the length of its body.
---
Flies
The golden backed snipe fly is a black insect with a bright yellow back and the body of the fly has an almost silver or white shimmering metallic striped look to it.
So what is this crazy looking insect? Have you seen one before? This is the common scorpionfly. To me, there is nothing common about the look of this little guy.
The Canadian goldenrod and a few additional goldenrod varieties are host plants to gall fly larva. The Gall fly produces goldenrod galls which become the food source of gall fly larva over the course of the winter. The insect has a fairly interesting lifecycle.
The Long-Tailed Dance Fly – Rhamphomyia longicauda is an interesting insect. You can see them in swarms a few feet off the ground toward dusk in heavily wooded areas here in Wisconsin. The males will go around during the day and collect small insects and wrap them in silk to gift to females. The only way a female will mate with a male is for the male to offer a gift of an insect.
The eyes on the mayfly (Hexagenia limbata) kill me. I giggle every time I see them. Around the Great Lakes area we call mayflies fish flies because they tend to cause the areas around water to smell like rotten fish. Over 3,000 species of mayfly are known worldwide,
---
Bees
Augochlora Pura Bee
A metallic green bee thats name means pure magnificent green – which is fitting. You will see this bee out pollinating flowers until late October in Wisconsin when it goes into hibernation under tree bark or in logs until spring.
Sweat Bee
There are 42 species of sweat bees worldwide. All species have a metallic green or blue sheen to them. The bees are ground dwelling nesters.
Why are they called sweat bees? Bees in this family are attracted to human sweat, and they use the salt from the sweat for nutrition. Only the females can sting.
---
Spiders & Spider Like
The Eastern Harvestmen are similar to and often misidentified as spiders. But they are not. They are Opiliones which have extremely long legs compared to their bodies and lack the venom glands of spiders.
Dragonflies & Damselflies
Awe, shucks. I haven't added anything under this category. Soon. Promise.
---
Categories: WISCONSIN / MICHIGAN / INDIANA / SOUTH DAKOTA / SOUTHERN US / WILDLIFE / WILDFLOWER & BOTANICALS / VINTAGE FLAIR / ATV & UTV / PHOTO TUTORIALS / CRAFTS / RECIPES / DESIGN WORK / HOME
AFFILIATE POLICY: Posts on this site may contain links to outside vendors that pay me a commission when you purchase from them, at no additional cost to you. Thank you for supporting this site!